Solar Controller SR501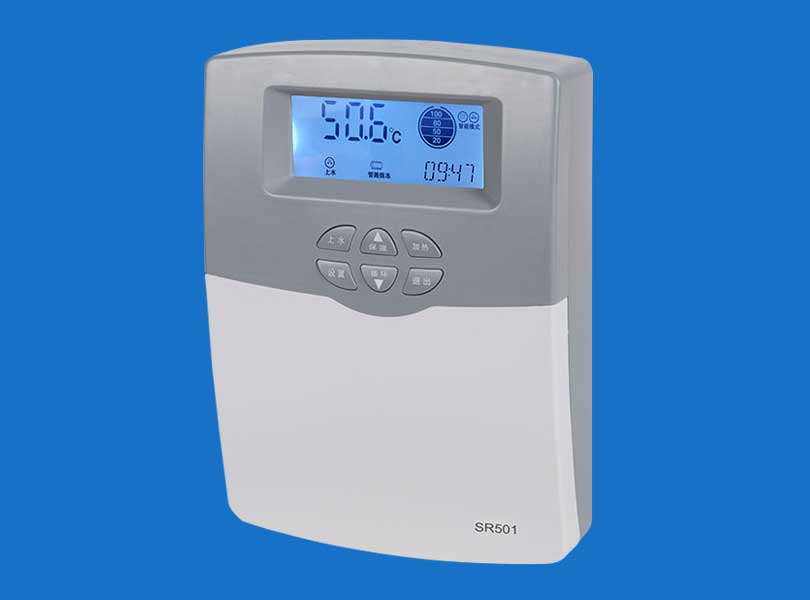 Solar intelligent controller SR501
Solar controller SR501, micro-computer automatic controller for solar water heater, It is used to control integrated un-pressurized solar thermal system. It is developed using the latest NEC high-performance microcontroller to achieve intelligent control; All devices are industry standard and maintain good operation in cold, hot and humid environments.
At the same time, it uses a dedicated clock chip, accurate time control. The controller uses LCD liquid crystal display, the appearance of beautiful, stable and reliable performance, easy installation, making it the best matching products for solar water heater.
Operation Manual of Controller SR501.
Solar controller main technical data:
1.Dimension: 205mmX150mmX50mm.
2.Power supply: AC100-240V,50Hz.
3.Accuracy of temperature measuring: ±2℃.
4.Range of tank temperature measuring: 0~99℃.
5.Accurancy of temperature control: ±2℃.
6.Power for water loading: ≤200W.
7.Power for self heating cable: ≤600W.
8.Power for heating element:≤1500W/3000W (Two model number can be choice).
9.The electromagnetic valve: DC12V/ AC220V, (Optional pressure valve and low pressure valve).
※Pressure valve working pressure: 0.02Mpa~0.8Mpa (For direct water supply).
※Low-Pressure valve working press.



SR501
solar controller m

ain functions
:
1. SET CLOCK
2. Timing control water loading and backup heating at preset three time sections.
3. Temperature controlled water loading.
4. CTH Constant temperature heating.
5. LWPR Low water pressure protection
6. CWL Constant water level filling (preset 100% water level of tank)
7. PUMP Water filling pump
8. TCYC recirculation by temperature/flow within three time-sections.
9. AH Automatic thermostat function
10. OTF Three time –sections setting
11. TKPR Tank high temperature protection function.
12. CFR Tank anti-freezing protections.
13. LWS Preset the water level of water filling when tank is lack of water
14. LWSD Run-on time of water filing when tank is lack of water.
15. OTDI Thermal disinfection.
16. UNIT Celsius degree and Fahrenheit unit switch
17. BEEP Beeper error warning
18. Manual water filling.
19. Compulsive water filing function.
20. Manual heating.
21. Manual DHW circulation
22. Factory reset manually.
23. Water level water temperature sensor sensitivity adjustment
24. Pipe anti-freezing protection function.
25. View the measuring valve.
26. Overflow protection.
27. High temperature protection of collector tube'
28. Memory protection
29. Screen protection.
30. Trouble protection.
31. Error code description.

Solar
intelligent
controller SR501 system diagram: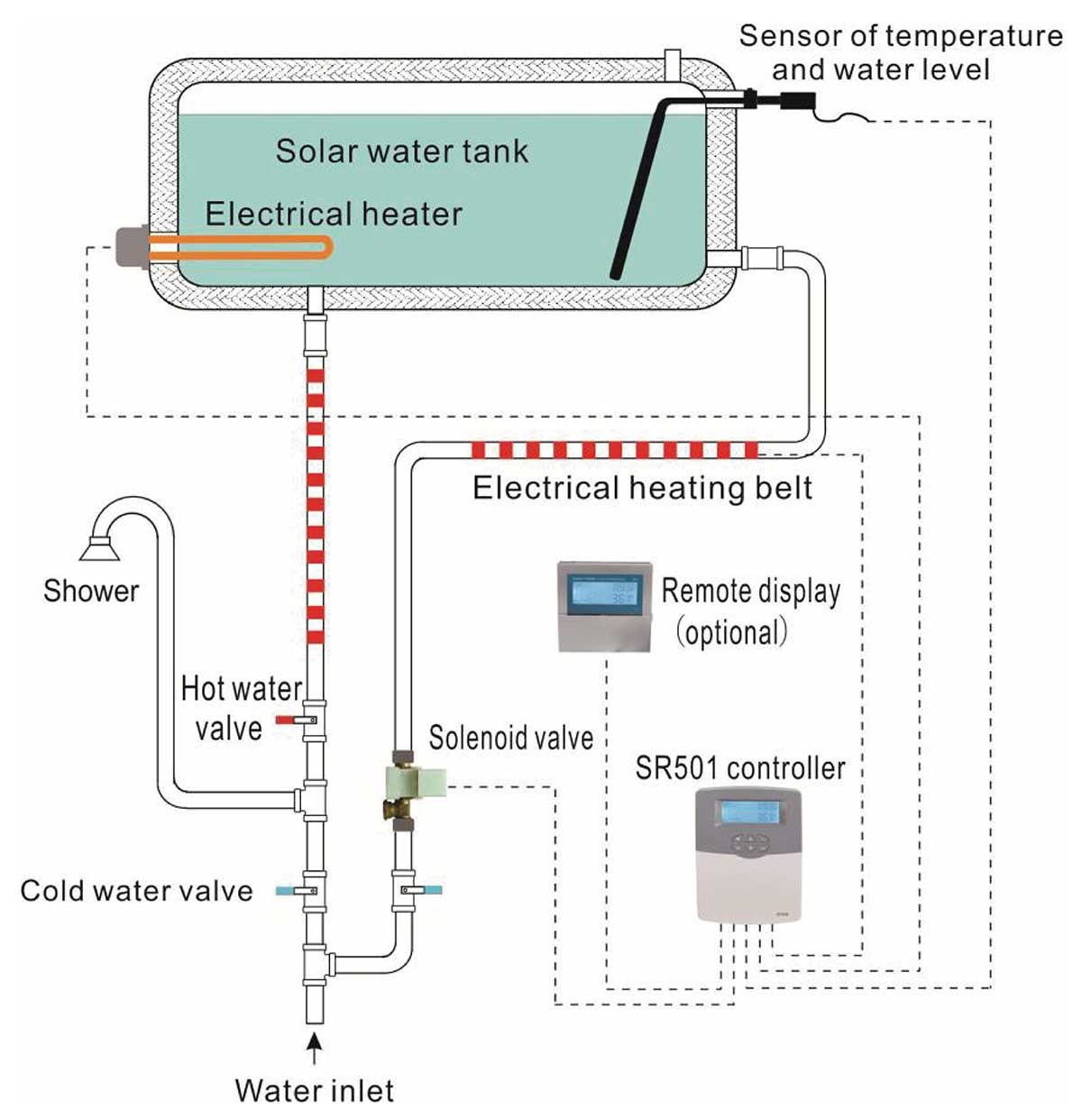 Schematic diagram solar controller SR501